Torchlight 2
Game Save Location
Torchlight 2 is an action RPG set in a fantasy world where the evil power of 'Ordark' has been stolen and is causing devastation across the land – it is the player's role to find the culprit and prevent any further damage. The game consists of 3 acts: Wake of the Alchemist, The Eve of War and After the Alchemist., within which players will have to complete several missions with set objectives in order to progress through the game.
Following the game's release on 20th September 2012, Torchlight 2 proved extremely popular amongst players and sold over 2 million copies in its first year of release. It has also received strong ratings from fans with a score of 81% on Metacritic and 9/10 on Steam.
Run on OGRE engine, Torchlight 2 was developed by Runic Games, also known for its 2017 game 'Hob'. Users can currently access the game on Nintendo Switch, PlayStation 4, Microsoft Windows, Linux, Macintosh operating systems and Xbox One.
Torchlight 2 Save Location
Your game saves are one of the most important files relating to Torchlight 2. If you lose them, you will also lose your progress. For this reason, many players choose to create backups that they can return to if they are ever corrupted or have an issue with their PC. Keeping backups also means you'll be able to return to your old saves, should you ever wish to revisit past progress.
But that's enough about why your Torchlight II saves are important, find out where they're located for your operating system below.
Windows
On Windows, your Torchlight 2 save files can be found in this folder:
%UserProfile%\Documents\My Games\Runic Games\Torchlight 2\save\

To access that path, just hit WINDOWS + R on your keyboard, or right click the start menu button and select Run, to open a Run window. In the Run window, paste the above path into the text field like so and hit OK: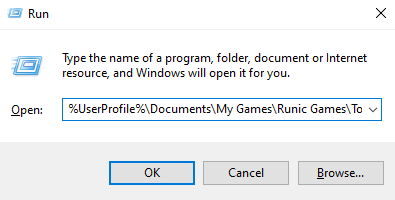 And that'll be you in your saves folder!
Mac
Mac installations of Torchlight II stored their game save files in this directory:
~/Library/Application Support/Runic Games/Torchlight 2/saves

To go to that path:
Open a Finder window
Press COMMAND + SHIFT + G on your keyboard
Paste ~/Library/Application Support/Runic Games/Torchlight 2/saves into the Go text field
Click Go
And that'll be you in your saves folder!
Linux
Torchlight 2 on Linux puts game save files in this path:
~/.local/share/Steam/SteamApps/common/Torchlight II/my games/runic games/torchlight 2