How to Find Your Steam Library Folder
Locate the folder for your Steam library
Steam is great, but sometimes things can be a little tricky to find. One of those things is your Steam library: these are the files that make up your Steam installation, and all the games, mods, and workshop items that come along with it.
Although it's not as simple as clicking one button, finding your Steam folder is a relatively straight-forward process. Firstly, open up Steam, click Steam in the top left, and click Settings: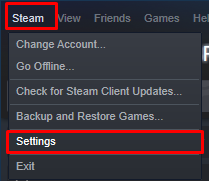 Then, in the Settings menu, click the Downloads tab, and finally, hit Steam Library Folders:

After clicking the Steam Library Folders button, an interface with all your Steam library folders will pop up. All you need to do is open File Explorer (Windows), Finder (Mac) or whatever file explorer your operating system uses and type the "Folder" path into the address bar.