OBS
OBS Recordings Folder
OBS, short for Open Broadcaster Software, is screen recording and streaming software available for Windows, Mac and Linux. It is free and open-source, which is partly why it has become such a popular alternative to other screen recorders since its release in 2012.
With granular options for both technical and non-technical users, OBS is software used by a people for many different purposes. For example, it's popular amongst professionals in the video industry (YouTubers, etc), and also casual gamers who wish to document their gameplay. As OBS also supports live streaming, it has become popular among users of streaming platforms like Twitch too.
OBS Recordings Location
What good is a recording if you're unable to find where the darn file is? Well, thankfully, you don't have to find out the answer to that question because you're on Save Location, and if there's one question we can answer, it's one relating to the location of save files and folders.
You can quickly find the location of your OBS recordings by clicking File > Settings: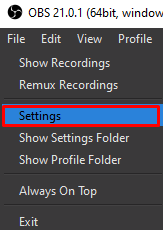 Then, click Outputand under Recording you will find your recording path: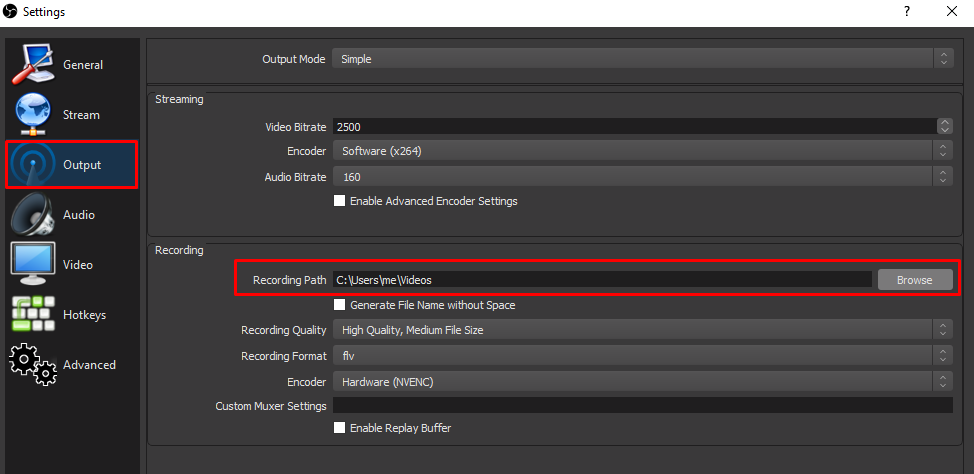 That's it! If, for whatever reason, you can't follow the above steps, see the default path for your operating system below:
Windows
The default OBS recording output path on Windows is:
%UserProfile%\Videos

Hit WINDOWS + R, then paste the above path into the text field and hit OK to open it up.
Mac
The default OBS recording output path on Mac is:
~/Movies

The ~ sign just means your user directory, so the above path means you can the recordings in your main Movies folder.
Linux
The default OBS recording output path on Linux is:
~

A.K.A /home/USERNAME, where USERNAME is your username).