Nvidia GeForce Experience (ShadowPlay & Ansel)
Video Recording and Screenshot Location
Nvidia GeForce Experience is a piece of software offered to PC users with Nvidia graphics cards. It is aimed at users of their graphics cards who play video games, with its main offering being a selection of useful features and utilities to optimize gameplay and achieve better performance.
One of the largest utilities included within the software is the automatic driver update utility, which automatically updates a PC's drivers to make sure they are the latest version. Along with this, GeForce Experience has the capability to optimize game graphics settings so that users can achieve a the best performance possible.
Many users of GeForce Experience also make use of the "Nvidia Share" feature, which was formerly known as ShadowPlay. Nvidia Share is a hardware-accelerated screen recorder which makes recording video game footage (i.e. screen captures) seamless.
Nvidia Share (GeForce Experience) Video Folder
Windows
The folder for GeForce Experience videos from Nvidia Share (ShadowPlay) can be found at the following path:
%UserProfile%\Videos

Simply open up a File Explorer window and past the above path into the address bar (and hit ENTER on your keyboard) to view all of your GeForce Experience recordings.
If that isn't working (or the folder is empty), follow these steps to find out your folder location:
Open GeForce Experience and click the settings icon in the top right:

Click the "SETTINGS" button found in the "IN-GAME OVERLAY" box: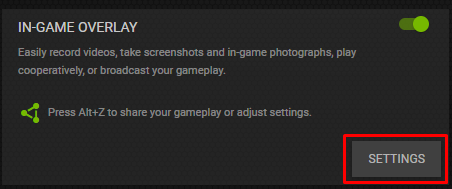 Click the "Recordings" settings button: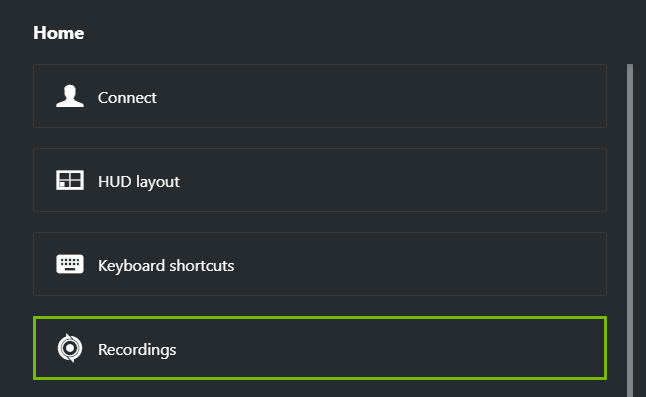 Find the folder of your recordings under "Videos:":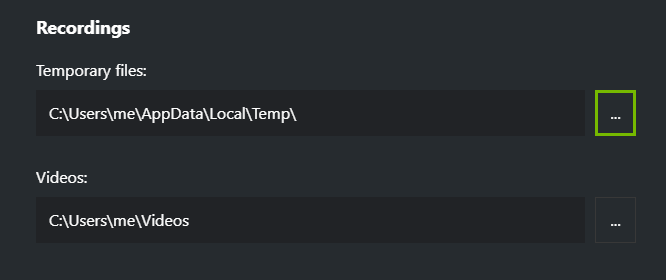 If that folder is empty, you probably haven't been recording any videos. This is likely due to an incorrect configuration, a bug with GeForce Experience, or an error on your part (e.g. pressing the wrong hot key, not having the overlay enabled).
Nvidia GeForce Experience Screenshots Folder (Ansel)
Windows
If you've taken a screenshot via Nvidia GeForce Experience, it's probably via Ansel. You can find these photos in the same location as your videos, that is:
%UserProfile%\Videos

We're not sure why Nvidia have chosen to save the photos here.. in the videos folder, but that's what they've done!
If there aren't captures in there, you have probably changed your "Recordings" folder (the folder that videos and screenshots made via GeForce Experience go into). See the steps in the "Nvidia Share (GeForce Experience) Video Folder" to find out where this is.