Citra
Citra Game Save Files Folder
Citra is a Nintendo 3DS game emulator for PC, in fact, the first to have ever been created (and the market leader today). For those reading who have no clue what that means, a game simulator is software that allows you to play games on a device that they weren't originally created for. In the case of Citra, it makes playing games that were made to only ever work on Nintendo 3DS possible on PC.
Since its creation in April 2014, over 150 different people have contributed to the project. It now supports almost every homebrew game there is for Nintendo 3DS. Networking support, a feature released in November 2017, is a popular addition which allows games to be played in multiplayer.
Citra Save Files Location
In Citra, you can find your save location for a specific game by simply right clicking the game you want to view and clicking "Open Save Data Location":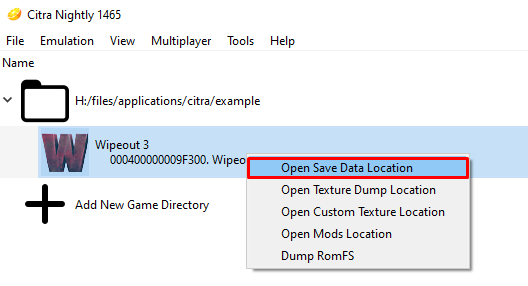 The above method works for Windows, Mac, and Linux operating systems!