Ark: Survival Evolved
Save Files Location, Game.ini File Location, Screenshot Location
ARK: Survival Evolved is a survival-based pve action game which can be played from both a first person and third person perspective. Stranded in the mysterious world of 'Ark', players must avoid/ tame the dangerous primeval creatures that live there whilst surviving the natural elements. With the ability to use weapons, hand arms and fire, players have the option to either tackle the hazards themselves, or work as a team in multiplayer mode.
Initially released on 2nd June 2015, Ark was first available only on PC, but has since been extended to platforms including Linux, Microsoft Windows, macOS, PlayStation 4, Xbox One, Android, iOS and Nintendo Switch. Expansions to the game include the paid DLCs Scorched Earth, Aberration, Extinction and Genesis.
The game has been received fairly well by fans with a score of 7/10 on Steam. Whilst many players have praised its aesthetics and content, it has also been criticized for its glitches and potential feature bloat.
Ark Save Location
When you save your game in Ark, the save files have to be placed somewhere on your hard drive. Usually, your Ark save files folder can be found at one of the following paths:
C:\Program Files (x86)\Steam\steamapps\common\ARK\ShooterGame\Saved\SavedArksLocal

OR
C:\Program Files\Steam\steamapps\common\ARK\ShooterGame\Saved\SavedArksLocal

If you don't know how to access those paths, or those paths don't exist:
Open up Steam, go to your Library, right click Ark: Survival Evolved, and click Properties: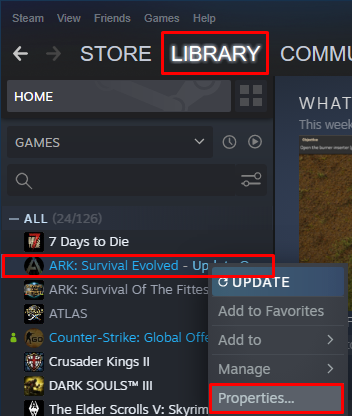 Go to the LOCAL FILES tab, and click BROWSE LOCAL FILES...: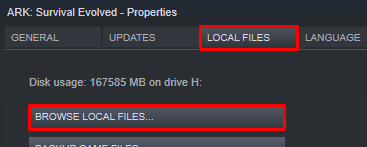 Then open the ShooterGame folder, and finally the Saved folder. Here you can find the SavedArksLocal folder, or the folder relevant to the DLC your save relates to (e.g. for Extinction ExtinctionSavedArksLocal).
Ark Game.ini Location
The Game.ini file holds settings relating to your local single player games. You the Game.ini file for singeplayer Ark at the following path:
C:\Program Files (x86)\Steam\steamapps\common\ARK\ShooterGame\Saved\Config\WindowsNoEditor

OR
C:\Program Files\Steam\steamapps\common\ARK\ShooterGame\Saved\Config\WindowsNoEditor

If that doesn't work, go to wherever you installed Ark and go through the following folders:
ShooterGame > Saved > Config > WindowsNoEditor
Ark Mods Location
Your Ark: Survival Evolved mods are located in one of the following folders:
C:\Program Files\Steam\steamapps\common\ARK\ShooterGame\Content\Mods

OR
C:\Program Files (x86)\Steam\steamapps\common\ARK\ShooterGame\Content\Mods

If the above paths don't work, find out where Ark is installed, then proceed through the following folders:
ShooterGame > Content > Mods
Ark Screenshots Location
Ark screenshots can be taken via Steam, we're not sure if Ark has a native screenshot feature but most users seem to use the Steam screenshot feature. You can find these screenshots by, firstly, opening Steam, clicking View (top left) and then clicking Screenshots: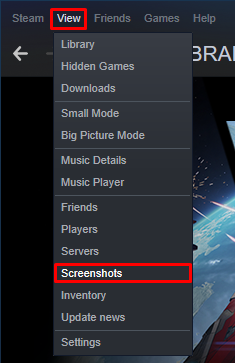 Once you've opened up Screenshots, simply select Ark: Survival Evolved from the games dropdown, and click SHOW ON DISK: